New Comfortmaker® OptiClean™ Portable Negative Air Machine
FN1AAF005000 – MINIMUM 500 CFM
FN1AAF015000 – MAXIMUM 1500 CFM

In this new era of face masks in public, mandatory temperature checks and quarantining, Comfortmaker continues to provide solutions to comfort and IAQ challenges. Comfortmaker is proud to announce the launch of the Comfortmaker® OptiClean™ portable negative air machine.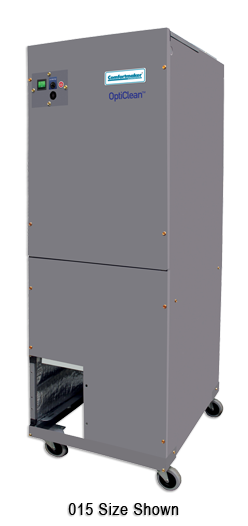 What is the Comfortmaker OptiClean Portable Negative Air Machine?
The Comfortmaker OptiClean negative air machine is a portable, minimum 500 CFM or maximum 1500 CFM solution primarily designed to help convert normal hospital rooms into airborne infectious isolation rooms (AIIR).

How does it work?
► Designed to comply with ASHRAE's Standard 170 for Ventilation of Health Care Facilities, the Comfortmaker OptiClean uses a 99.97% efficient, long life HEPA and a heavy duty, yet quiet, motor to remove filtered contaminated air from the room. The resulting negative air pressure, or "vacuum effect," helps limit the spread of airborne contaminants into surrounding areas.
► In a closed room, the machine uses high-efficiency particulate air (HEPA) filters, an air management system to significantly reduce contaminants in the air, and flexible ducting to exhaust the filtered air. The machine creates negative pressure so that when the hospital room door is opened, air is pulled into the room from outside instead of letting potentially contaminated air out from the room.
► If negative pressure is not required, such as an open-air, temporary hospital, the machine can be used as an air "scrubber," pulling air in, removing many contaminants, and discharging cleaner air back into the space.

Why is the Comfortmaker OptiClean important?
While hospitals generally have air filtration systems that reduce the spread of infectious diseases, those systems are often only available in certain sections of the hospital. As a result, hospitals have had to convert rooms that were not intended for patients with infectious diseases, and new field hospitals have been established that are not equipped with hospital-level air filtration.
How was the Comfortmaker OptiClean developed?
► OptiClean development began in late March. After quickly and successfully testing prototypes in company facilities, field trials began in hospitals across the country. Units have already begun shipping for hospital use.
► Adaptable to nearly any appropriately-sized location, the machines are portable, plug into a normal wall outlet, and sit on wheels that enable hospitals to move them to rooms as needed.
► Potential future uses include homes, businesses, and assisted living facilities.
Product Highlights and Specifications
99.97% efficient, long-life HEPA filter removes particles as small as 0.3 microns
Standard MERV 7 or higher pre-filter
Minimum 500 CFM or maximum 1500 CFM
Meets or exceeds the ASHRAE Standard 170: Ventilation of Health Care Facilities
HEPA filter rack and sealing design meet air leakage requirement
Vertical design for smaller footprint compared to many competitors
Portable and adaptable to nearly any appropriately-sized location
Heavy-duty, lockable casters for easy transport
Three-speed selector switch on 015 size for various air flow ranges
Red filter indicator light alerts user when it's time to replace a filter
Green on/off switch illuminates when the unit is on and operating
Ten-foot long power cord with strain relief
Exhaust transition plate to standard 10-inch round (005 size) or 12-inch oval (015 size) duct included
Galvanized steel, pre-painted cabinet is fully insulated
115V
UL® listed
Cabinet dimensions: 17-5/8" W x 22-1/16" D x 49-5/8" H (005 size) 21-1/8" W x 22-1/16" D x 53-7/16" H (015 size)
Operating Weight: 125 lbs (005 size), 150 lbs (015 size)
One-year limited warranty
Pre-Installed Filters
The Comfortmaker OptiClean ships with two filters pre-installed for convenience: a minimum MERV 7 pre-filter and a HEPA filter.
The minimum MERV 7 pre-filter recommended replacement is 60-90 days and is available to order through Fast® Parts.*
The long-life HEPA filter provides approximately 40,000 hours of operation, or four years, under normal operation and maintenance.*
* Applies to negative air machine applications only. Filter life in air scrubber applications would be reduced.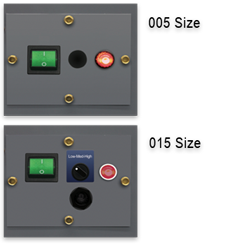 Multi-Function Control Panel
On/Off Switch – A green on/off switch illuminates when the unit is on and operating.
Filter Alert – A red light illuminates when it is time to check and/or replace one or both of the unit's filters.
Pressure Indicator – Compares room/ambient pressure versus internal pressure on the back side of the HEPA filter. Sets off the red indicator light when the filters are dirty
Three-Speed Selector Switch – Allows for low-medium-high air flow ranges(015 size only)
Limited Warranty
The Comfortmaker OptiClean is covered by a one-year parts limited warranty. See limited warranty certificate for complete details and restrictions.

Contact your distributor for more information on the Comfortmaker® OptiClean™ Portable Negative Air Machine.
Currently designed for Commercial applications only.
All trademarks are the property of their respective owners.