HVAC Onboarding—LIVE
Are you having trouble finding experienced personnel?
If so, you're not alone. Our industry is in the midst of a well-documented labor shortage. Consequently, people with little or no HVAC experience are regularly hired by HVAC contractors.
What can be done to acclimate new employees with little to no industry experience?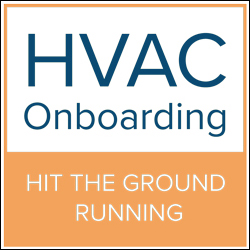 Your friends at My Learning Center have teamed with Grandy & Associates to provide HVAC Onboarding Live—a live online instructor-led course specifically designed to prepare your personnel with little to no HVAC experience for the challenges the HVAC industry could bring. This course will provide team members new to the industry with a solid grasp of foundational HVAC terms and principles. Because the course is offered online, your new employees can attend from your office with no travel required. Watch this video to learn more.
Topics will include:
● Understanding major and minor system components
● Importance of proper system design and installation
● Efficiency requirements and their role in the industry
● Why is IAQ such a big part of HVAC?
● The function of comfort controls
● Why are there so many system options?
● Role of duct work in proper system function
● Benefits of offering higher efficiency options to clients
Course Details:
Each class consists of two 4-hour live instructor-led online sessions on consecutive days with the following schedule:
● Day 1: 12:00 PM – 4:00 PM Central
● Day 2: 9:00 AM – 1:00 PM Central
This course is eligible for 8 Factory Elite Dealer hours.
The courses are offered on the following dates:
● October 30-31, 2019
● November 25-26, 2019
● December 9-10, 2019
● December 18-19, 2019
How to Register:
1. Log in with Secure GoSite login
2. Click the My Learning Center tab
3. Select a date from the home page
4. Select Register Myself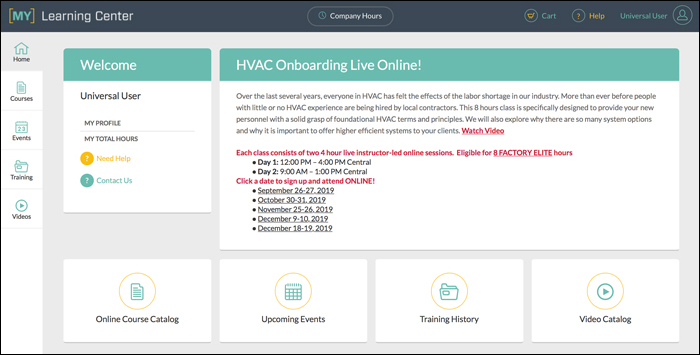 Once registration through My Learning Center is complete, additional information and payment will need to be provided at https://grandylink.com/mlconboarding. After registration with grandylink, an email with details on how to join the Live Online Classroom will be sent. Student manuals will be shipped overnight. Reminder emails will be sent the day prior to the class and 1 hour before the class begins. If you have any questions, please email My Learning Center.
Whether your new team member will be the working service counter, answering the phones, serving as an installer or comfort consultant, this class can be a springboard into a successful HVAC career. This course is currently available through My Learning Center.
---
About the Presenter:
Over the last 32 years, Grandy & Associates has assembled a team of industry experts who know how you feel and have walked in your shoes. They have trained over 20,000 trade professionals, owners, managers, and techs with the knowledge, tools and strategies needed to increase cash flows, reduce stress levels, have more free time, and increase profits.
---
How Do I Access My Learning Center?
My Learning Center is easy to access and use. In a matter of minutes, you can be online participating in a training session.

Click here to learn how to access My Learning Center
If you have any questions, please email My Learning Center.
My Learning Center is an easy way to learn more about the latest Comfortmaker products and programs, as well as to get sales, customer service and marketing tips on your home or office computer, at a time that's convenient for you.