Build an Unstoppable Call Handling Team
Did you know that an untrained call handling team can cost you hundreds of thousands of dollars in lost revenue every year?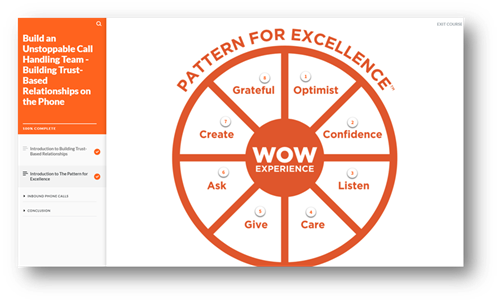 If your CSRs are unable to consistently close calls, you could be missing out on countless dollars in revenue every day. This could mean you're losing money not only through missed opportunities, but also from wasted money on advertising.
Think of it this way:
Would you turn on a faucet to get a drink with no cup in hand to catch water? Almost certainly not. However, if you spend time and money marketing your business, have calls steadily coming in, and consistently fail to close them, you are essentially doing that very thing with your business.
It is essential that your CSRs become a well-oiled, call booking machine!

My Learning Center is excited to announce a new series:
Build an Unstoppable Call Handling Team by Power Selling Pros™.

This exciting five-part series is available now on My Learning Center.

Click here for an introductory video on the series.
---
Course #1: Trust Based Relationships
This course will provide your call-handlers with tools to master two important elements of phenomenal customer service: practicing empathy and building trust. Nothing moves the needle more than a customer service team that people like talking to and trust for help.
Course #2: Closing the Call
This course will enable your call takers to take better control of the phone call so they are positioned to turn callers into paying customers. The person who asks the questions controls the conversation, and this course will give your customer service representatives tools to help them take control and close the call.
Course #3: Overcoming Objections
Every day, millions of dollars in revenue are lost for service businesses because call handlers are not trained to handle objections that come in over the phone. Think about it: if a customer were to tell your team that they will "call you back" or "it's too much", what would your team do? This course will enable your call takers to better handle calls where customers are concerned about pricing and availability.
Course #4: Angry Customers
What's your call-center strategy for handling angry customers? For most businesses, there isn't one... they simply react. It's time for you to stop being reactive and start being proactive with angry customers. This course teaches proven strategies for handling the toughest angry customers, and even explains what other CSRs have done to turn angry callers into raving fans.
Course #5: Selling Service Agreements
How would your business change if each member of your call-handling team knew how to offer service agreements to every customer that buys from you? It's time you gave your people that skill.
---
About Power Selling Pros
Power Selling Pros began coaching HVAC owners in their marketing endeavors and spent the next decade providing these companies with tools for success. After thousands of hours researching markets and following customer trends, they realized that customer service is key to being successful. From that, they developed a unique training process that positions CSRs to achieve better outcomes on every call they take.
---
How Do I Access My Learning Center?
My Learning Center is easy to access and use. In a matter of minutes, you can be online participating in a training session.

Click here to learn how to access My Learning Center
If you have any questions, please email My Learning Center.
My Learning Center is an easy way to learn more about the latest Comfortmaker products and programs, as well as to get sales, customer service and marketing tips on your home or office computer, at a time that's convenient for you.